Articles tagged with: Sports Cars
advertisements

Ford Flex Crossover unveiled at 2005 according to Ford Motor Company timeline and the sales of the car began in 2008 as 2009 model year. The brand new styling Flex Crossover is different from Ford Western Hauler, some SUV features have derived to the Flex and currently it is only sold in US, Canada and some place in the Middle East.
BMW &raquo
BMW is a very successful brand in cars and automobile industry, but what does BMW stand for? The real definition of what exactly BMW stands for are Bavarian Motor Works or Bayerische Motoren Werke in German (being a German Company), or roughly translated, Bavarian Motor Factory.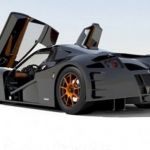 Super exotic sports cars are extremely attractive and "eye-catching". The best exotic car wallpaper is available to download here for free, you can also check out muscle car wallpaper. These exotic sports cars are small, low to ground, light weight and with powerful engine and high torque.